List of Muscat, Oman 5 star Hotels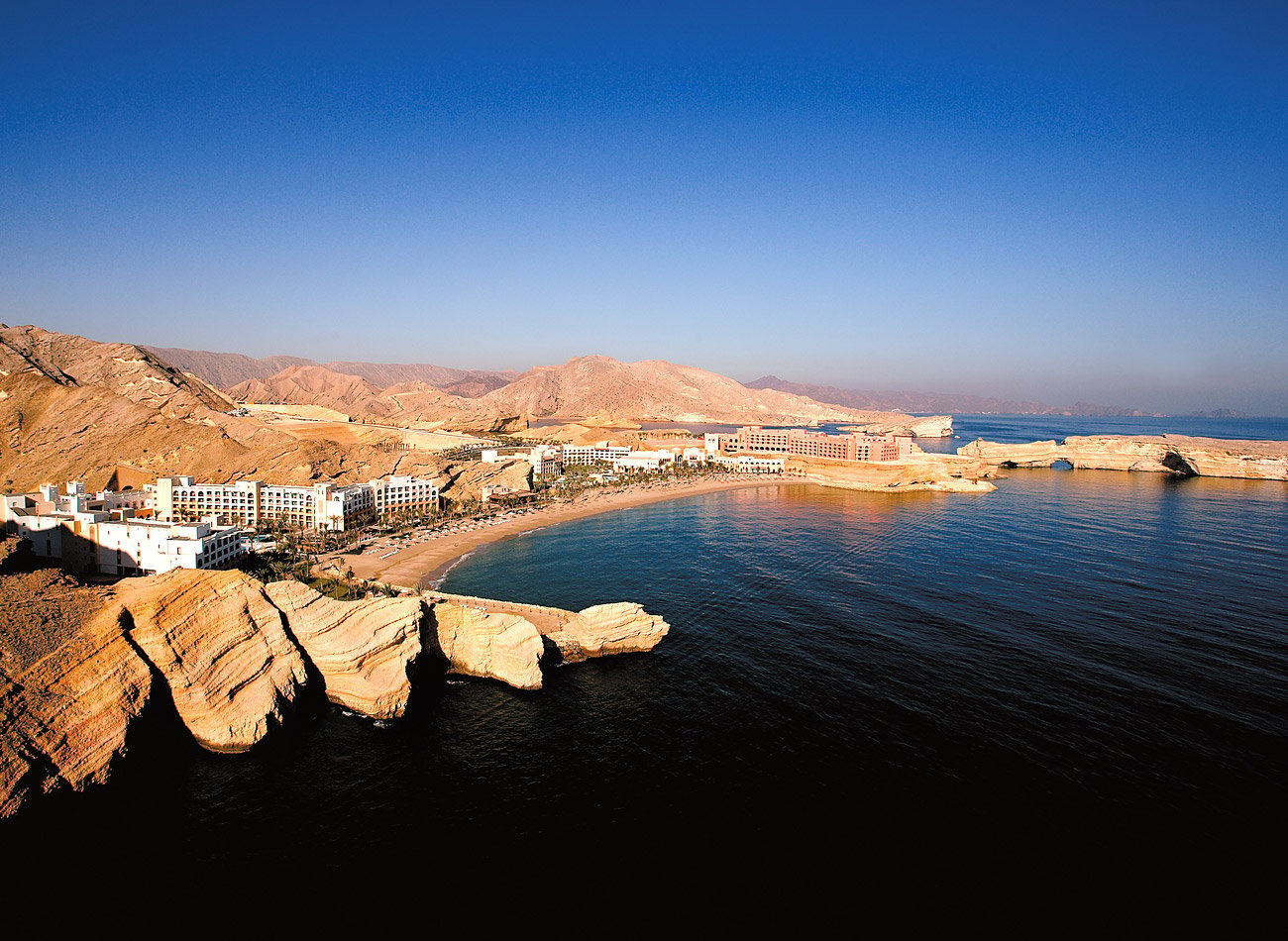 Shangri-La's Barr Al Jissah Resort and Spa
Shangri-La's Barr Al Jissah Resort and Spa, a luxurious three-hotel resort village and signature spa in the Sultanate's capital of Muscat, nestles alongside the sparkling bay of Al Jissah in a dramatic desert setting of rugged mountains and inviting beaches.
Al Bustan Palace
Al Bustan Palace, a Ritz-Carlton Hotel provides a fairy tale opulence for its visitors and is an immensely enticing blend of "old world" luxury hotel and Middle East Culture. The hotel is closed for a multi-million dollar refurbishment, the hotel is the jewel of the Sultanate of Oman and the Arabian Peninsula: 40 minutes from Muscat International Airport.
InterContinental Muscat
Encapsulates perfectly all that is Oman with its seamless blend of Arabian hospitality and modern facilities. Situated in 35 acres of luscious palm gardens between the imposing Hajjar Mountains and the flawless pale sand of the Gulf coast, it offers a range of stunning views on each side.
Grand Hyatt Muscat
Offers world-class comforts for business and leisure travelers in a traditional Omani setting mixed in with old world charm and elegance. Overlooking the azure waters of the Gulf of Oman and is one of the largest and most opulent hotels Muscat with standard room sizes of 42 sqm. Only 20 minutes from Muscat International Airport and located in the exclusive Embassy District of Muscat.
The Chedi Muscat
One of the Top 10 Resort Hotels in The Middle East, Africa and Indian Ocean (according to Condé Nast Traveller Reader Award 2005 & 2006). Situated on the stunning Boushar Beachfront in Muscat, wehre crystal Gulf Waters mirror images of glorius mountain ranges. The Chedi is an oasis of mysticism and luxury, 15 minutes drive from Muscat International Airport.


Sheraton Oman Hotel
The Sheraton Oman Hotel is an architectural landmark strategically located at the top of Ruwi, within walking distance of the city's central business district and shopping areas. The old town of Muscat, featuring the Muttrah Souq fish market, the Sultan's Palace and the renowned Bait Al Zubair museum can be easily reached by taxi within 10 minutes.
Al Baleed Resort Salalah by Anantara
Between a beach and freshwater lagoon, Al Baleed Resort Salalah by Anantara offers refreshing luxury, and also a gateway to Oman's cultural treasures. Experience a beachfront oasis that is the first luxury villa resort of its kind in Salalah, along the south coast of Dhofar. Admire how history, culture and nature unite in striking elegance to honour the destination. Middle Eastern design reflects Dhofar's rich heritage and is inspired by the region's iconic coastal fortresses. Intricate, artistic details complement the princely comforts, unparalleled amongst Salalah hotels. Walkways are surrounded by towering palms, magnificent trees, tropical gardens and lush water features, creating tranquil journeys to new discoveries.


Hilton Salalah Resort
The hotel is south of midtown Salalah, along Oman's crystal blue coast, eight miles from the Salalah Museum, 10 miles from the Gold Souk and the Frankincense Route, eight miles from Wadi Darbat and the beaches of Taqah, and 40 miles from the Queen of Sheba's Palace.


Crowne Plaza Resort Salalah
Located on the private beach of Salalah, approximately 10 miles from Salalah International Airport. Right on the Indian Ocean, this hotel is five miles from the Old and Gold Souk and National Museum, 15 miles from Ain Razat, 22 miles from Sumhuram and Khor Rori, 28 miles from Al-Mughsail Beach, 44 miles from Mirbat Village, and 112 miles from the Lost City of Ubar.


Al Nahda Resort & Spa
Coral Boutique Villas at Al Nahda Resort & Spa enjoys a magical location barely 30 minutes from Muscat International Airport. Set in 30 acres of lush botanical gardens, it's a cute collection of 109 rooms and villas each well-equipped with the latest amenities. Offering elegant but understated comfort, the rooms are designed for relaxation and are very spacious.

Six Senses Hideaway Zighy Bay
Six Senses Hideaway Zighy Bay is located on the northern Musandam Peninsula in the Sultanate of Oman. The setting of the indigenous village style accommodations and private marina is dramatic, with mountains on one side and a 1.6-kilometer sandy beach at Zighy Bay, on the other.



Desert & Mountain Nights Camp
The View 'Eco Luxe' Luxury Tents

It isn't just an 'Eco Luxe' retreat, but an experience where nature holds pride of place. Where service and hospitality is at its finest. Just a 2 ½ hrs drive from Muscat and 45 minutes from Nizwa, it is an ideal getaway with 15 exclusive luxury tents for a truly relaxed and comfortable stay.
Desert Nights Camp
is an Oasis in the golden sands and the untamed spectacular open spaces. Surrender to the spirit of the Wahiba Sands, and enjoy the ultimate in personalized service and an adventure that caters to your whims and fancies.

Sama Al Wasil Tourism Village
The camp is nestled amid dunes, giving the feeling of being far from the everyday stresses of the world. Authentic desert life can be experienced in traditional Bedouin tents, but guests can also choose to stay in chalets with en suite bathrooms for comfort. Accommodation consists of 20 ensuite chalets, all with generous outside patios.
Hud Hud Night Camps
Hud Hud Night Camps – bespoke luxury 'safari' tents which are roomy and stylishly furnished. Each tent is positioned to ensure maximum privacy and individual views. A sumptuous 'majlis' tent, lit by oil lamps and candlelight provides an ideal venue where guests can enjoy pre-dinner drinks and enjoy dinner under the night sky.